The Global Health Programme of AJF serves as the focal point in Japan for international civil society working on policy recommendations and advocacy on global health issues including the Global Fund to Fight AIDS, Tuberculosis, and Malaria and Health System Strengthening. AJF works closely together with grassroots and/or organizations on issues surrounding the three most infectious diseases, including advocacy and awareness campaigns including "funding the fund", and innovative financing mechanisms for health. The aim is to increase the quantity and quality of Japanese (and global) contribution to global health commitments.
AJF has led the advocacy for global health issues with civil society around the globe in different occasions including TICAD process and G8/G20 processes.
Resources and Publications
Africa Japan Forum releases mail magazine on HIV/AIDS called "Global AIDS Update". Released bi-weekly, the "Global AIDS Update" picks up important articles related to HIV/AIDS and provides a summary in Japanese.
"The Role of the United States of America and Japan on Human Resources for Health in Developing Countries
An Independent Policy Review from the Civil Society of the US and Japanese"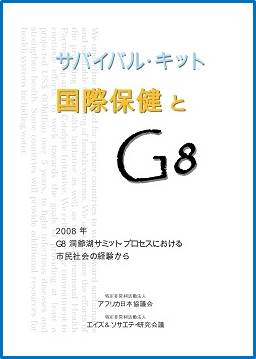 "Survival Kit: Global Health and the G8 ~ The 2008 Toya-ko Summit Process and Experiences of Civil Society" (2008)
"Africa Community: African Migrants in Japan and HIV/AIDS" (2008)
"Health NGOs and International Partnerships: A Resource Book a New Cooperation" (2008)"
"HIV/AIDS: Topics in Prevention and Medical Developments and Malaria: A handbook for NGOs "(2006)"