Africa Japan Forum
The Africa Japan Forum(AJF) is Tokyo, Japan-based non-profit, non-governmental, independent organization. AJF was established in 1994 by the individuals who had worked together to raise voices on the importance of grassroots activities at the First Tokyo International Conference on African Development (TICAD) . AJF has purposed to build relationship with the people in Africa, expanding networks with individuals and organizations to tackle the challenges African people face. AJF thoughtfully reviews the current global situations and the lifestyles of the people in the global north. Also, it serves to facilitate the activities of kids and youth with African roots to have identity strength and ancestral pride and to build a society where people with diverse background can share their lives enjoyable. Our area of social mission includes global health, food security, conservation of tropical forests, and joint efforts hand in hand with the people of African roots living in Japan.
■

Networking of civil society organizations (CSOs) and individuals to advocate for grassroots perspectives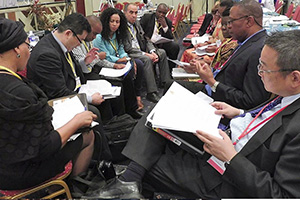 -Strengthening networks and partnership with African CSOs on issues such as health, food security and environmental protection and working together to raise voice in international fora.
-Coordinating Japanese civil society organizations working in/on Africa for different advocacy opportunities.
■

Awareness-raising program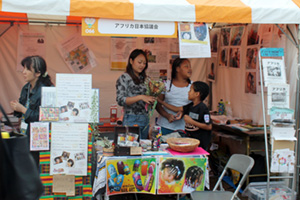 -Holding events and seminars to know more about Africa and people there.
-Providing information through e-newsletter of seminars, events, cloud-fundings, African
restaurants/shops in Japan and other opportunities related to Africa.
-Collecting articles from Africa provided in Japanese for list-making, and creating a database link with the cooperation between Insititute of Arts Vivendi, Ritsumeikan University, Kyoto.
-Publishing a quarterly Japanese magazine "Africa NOW" for in-depth analysis of the situations in/on Africa.
■

Collaborating with people of African roots to build networks and work together to promote  diversity of the Japanese society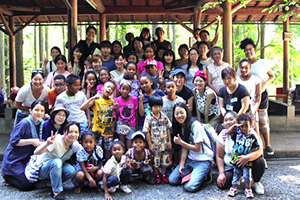 -Backing and supporting for African Kids Club and African Youth Meetup, which helps empower young stakeholders with African roots in Japan. AJF is eager to hear, collect and disseminate their voices/messages to larger public.
-Supporting immigrants and refugees with African roots through collaboration with other NPOs.

---
Activities
-Joint activities to support African Kids Club, African Youth Meetup and people with African
roots living in Japan
-Food Security
-Conservation of Tropical Forest
-Learning about Africa
---
The Committee
Co-Chairs
Inaba Masaki /Director of  Global Health Programme, AJF
Tamai Takashi /Associate Professor, Tokyo Woman's Christian University, Visiting Researcher, Institute of Ars Vivendi, Ritsumeikan University
D

eputy Presidents

Miyamichi Kazuchiyo  /Researcher, Research Institute for Infectious Diseases of Asia and Africa, Institute of Tropical Medicine, Nagasaki University

Tsuyama Naoko /In charge of coexistence and collaborative projects with African people in Japan, AJF; Researcher, International Peace Research Institute Meiji Gakuin University (PRIME)
Board Members
Fukao Koichi /Kyoto Seika University Center for Africa-Asia Contemporary Culture Studies Corporate Scholar, Visiting Professor at Rogationist College (Philippines)
Hirouchi Kaori /Executive Director, AJF
Hoshino Tomoko / Deputy Representative, Japan Environmental Partnership Council; Director, SDGs Civil Society Network; Director, Japan NPO Center; Director, Overseas Environmental Cooperation Center
Makino Kumiko /Director, Africa Research Group, Institute of Developing Economies, Japan External Trade Organization (JETRO)
Mine Yoichi /Professor, Graduate School of Global Studies, Doshisha University; Distinguished Visiting Professor, Department of Political Science, University of Stellenbosch; Visiting Professor, JICA Research Institute
Mozumi Mamoru /Former auditor of AJF, member of Together with Africa and Asia Association(TAAA), member of Japan Association for African Studies
Murao Rumiko /Researcher, Research Institute for Humanity and Nature
Yamanobe Sumiko /Veterinarian, member of Development Education Association and Resource Center(DEAR), member of Japan Association for African Studies
Auditors
Hayashi Junko /Tokyo Bar Association, Committee on Protection of Foreigners' Human Rights
Yazaki Mei /Representative of Yazaki Certified Public Accountant Office, Representative Partner of Pharos Certified Public Tax Accountant Corporation, Representative Director of World Runners Japan, Director of Certified NPO Accounting and Tax Specialist Network
---
Contact us
E-mail:info@ajf.gr.jp
Telephone:03-3834-6902(10am -4pm, JST) JST:Japan Standard Time
Facsimili:03-3834-6903
Office Address:
3rd fl. Maruko-bldg. 1-20-6 Higashi-Ueno, Taito-ku, Tokyo 110-0015, Japan
Where we are (Stations nearby)
Metro:Naka-Okachimachi Stn.    –  Ueno-Okachimachi,Shin-Okachimachi.Ueno
JR:Okachimachi Stn.(North Gate)-  Ueno(Hirokoji/Iriyaguchi Gate)
---
Donation bank transfer applicable to:
Banks: MUFJ Bank, Ueno Branch A/C 5305887
JP Bank/(Yucho Bank)  A/C 00120-3-573276
Account holder: Africa Japan Forum
(Tokutei Hieiri Katsudo Hojin Africa Nihon Kyogikai)
Membership Fees
Individual/Organization:¥ 10,000,  Student:¥ 6,000,  Support member: ¥5,000